Today's story doesn't really fit anywhere on the site, but I wanted to share it. Feel free to skip it if you like, but some of the hardest parts of 777 had nothing to do with running. This story is exhibit A.
///
"I gotta get out of this place."
I was going on about 36 hours straight of no sleep. My flight. I was already here 12 hours too long.
On the way to South Africa from Bali, I routed through Hong Kong to start the journey to Africa.
I was getting tired of Asia and after a couple of drinks with Nick, I jumped on the first Qatar Airways flight out of Hong Kong to Cape Town.
This flight – like every Qatar flight – routes through Doha, so the routing looked something like this.
HKG => DOH => CPT
Simple enough.
All the flights in Doha get in early in the morning (like 4am) and leave super late at night (think 1am), so I figured I'd have 24 hours in Doha and then get on my way.
I showed up in country and had no issues. Immigration was super quick and I took a taxi into my hotel where I grabbed a coffee at a local mall (everything there looks like a mall) and checked into my hotel.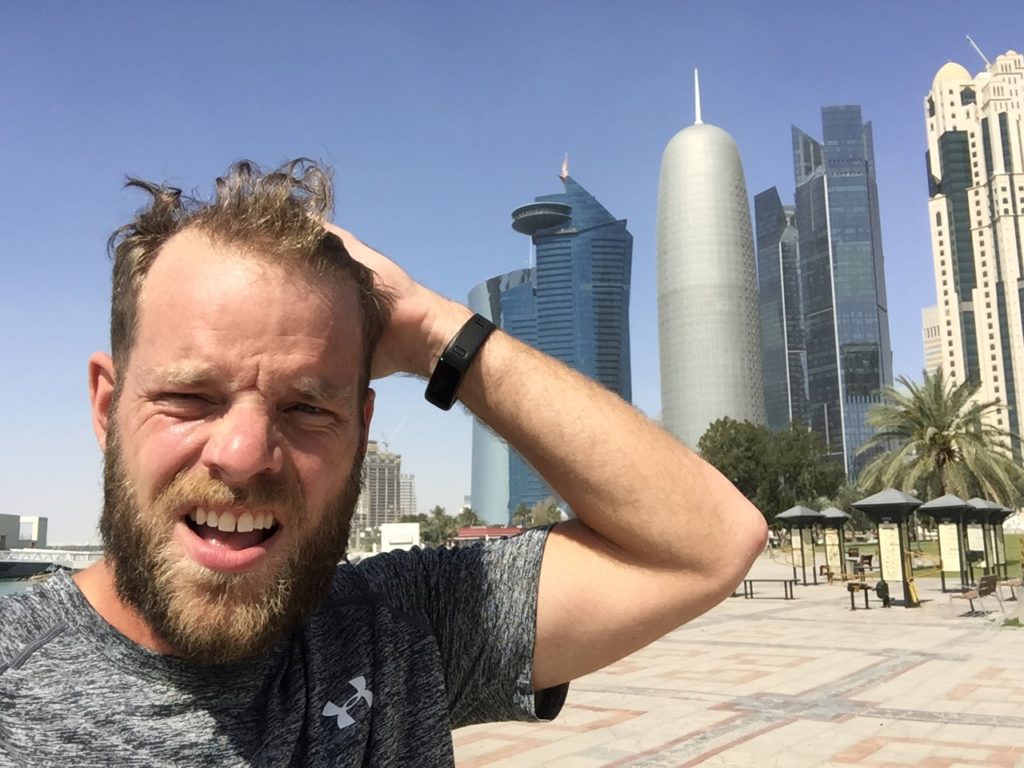 I did what you do in doha – ran the corniche, saw the pearl and went to a rooftop bar. Pretty standard.
Nice 24 hours in Doha…or so I thought.
I headed to the airport to check into my flight and hang out in the lounge before leaving on my early flight – 1am.
Again – things go smoothly, no issues – the lounge is completely empty until about midnight, where it gets packed (because that's when all the flights start to leave).
I head down to my flight and get in line. The Qatar rep is checking passports as they get in line. I roll up early in the queue – thanks to AA for the status – checked in and the guy flags me over to the side.
"You don't have enough pages in your passport."
"What do you mean – I have tons of space in my passport."
"No – you need two blank pages – back to back."
"That's ridiculous – I've been to South Africa before – they don't need that much space.."
"You need two blank pages back to back."
"I've been to Cape Town before – they do not care – the stamps take up no space – see how big the stamp is there? (I point to a stamp I already have in my passport from South Africa)"
He shakes his head at me:
"You need to wait over there"
As he pointed me to the waiting area.
He came back over ten minutes later and we do the same routine:
"You need more pages in your passport."
"No. I. Do. Not."
"Do you have another passport?"
"NO!"
"Can you get more pages in your passport"
"No, the US stopped doing that in 2015!"
"Well then we don't know what to tell you."
Thanks bro.
He goes back to his boss and the boss guy comes up to me:
"We cannot let you on this flight"
"So what do you want me to do?"
"You need to go to the transit area. This guy will take you there"
"I know where the transit area is."
"No – you need to walk with him. You can't leave yet."
Me in my head – "I will fight you"
I walk over to the transit area and have the same conversation again – this time with a woman.
Not enough pages."
Don't need 'em"
Yes you do"
Well what do you want me to do?
We don't know??
Sick of all this, I try to take action:
"There's nothing you can do?"
"Nope."
"So can I go back to the city at least and get a hotel to sleep tonight and worry about this tomorrow?" (it's 3am at this point)
"Nope – you can only leave transit area if we know that you're going to the embassy and will make the next flight tomorrow."
"It's 3am – the embassy doesn't open till 8am."
"Okay."
"Can I go back and hang out in the lounge till then?"
"No – you don't have a valid ticket at the moment…"
"So I have to sleep on the floor until 8am."
"Actually, you're not allowed to sleep on the floor – so if you could just sit in one of those chairs, that's best."
"…For 5 hours.."
"Yes."
Me in my head: "I will fight you…"
I sort of sleep until 5am/6am when the rush of flights show up. The quiet transit area turned into a mob as 10 flights all unloaded at the same time.
I try unsuccessfully to sleep and at 8:01, I call the embassy. I talk to the SEAL on duty and they tell me they're still not open yet. Call back later.
I call back a couple times. Fortunately they said they can hook me up if I print off the passport form, show up between 1-3 and bring a couple hundred USD with you (pro tip: always have a couple hundred USD on you whenever you're abroad).
Exasperated, I head through immigration and FINALLY leave the transit zone (not before paying my entry visa for a second time in 24 hours).
I take another taxi into the city (I'm in a dazed, sleep-drunk deja-vu at this point), and then grab some coffee in an attempt to shock my body into waking up somehow.
I run a bunch of errands including getting passport photos taken and finding a printer somewhere around Doha (which is harder than you think it would be). After a detour to a co-working space that was highly rated, we arrived to find an abandoned building and the knowledge hat it closed down a year ago. #neat
I showed up at the Embassy at 1pm. Right on time. I roll up and there are a bunch of rules posted to the front:
Rules:
No laptops
No phones
No books
No non-government business documents
Cool. I drop all my stuff at the security table and walk through the layers of security to get to the actual embassy place.
I get on the list and twiddle my thumbs – literally that's all there is to do – no books allowed, remember? There is a US Tourism magazine talking about each of the 50 states and things to see in each of them. I pick up a copy and start flipping through it.
After an hour, they call me up to see what I'm there for. They say they can help, but I need to wait until they're done with everyone.
One by one, everyone clears out – I've read the US Magazine 3 times. I now know every state capital by heart and the top 3 things to do in each state. New Mexico has more things in it than I thought.
At 4pm, after everyone clears out and the embassy is officially "closed", they call me up, take my documents and tell me they need me to wait some more.
30-60 minutes later (I've bored a hole in the wall with my half-bored, half sleeping-face), they call me back up and punch a bunch of holes in my old passport and hand me a new passport – with a grand total of 3 pages in it – good for 12 months.
Awesome – I'm saved.
I've got a 3 page, fake-looking passport, but I'm saved.
Problem is: I'm still half sleep drunk from not sleeping in 36 hours.
—
I show back up at the airport. With my new passport & situation – I explain everything to the gate agent.
They take an hour to figure out how to re-issue me my ticket.
Once they do, they let me know a fun-fact.
We can't give you the ticket unless you book it roundtrip.
Again – while the immigration people don't seem to care – Qatar Airways REALLY seems to care. I book a "refundable" ticket manually, keeping an eye on the clock as my 2-3 hour lead-time at the airport is shrinking to 30 minutes – and I haven't even gone through security yet.
They finally book the refundable ticket for my way out of South Africa, give me my ticket TO South Africa and I make some moves.
I book the ticket, boost through security & immigration and start booking it towards the gate.
I roll up to the gate and find one more surprise for me. Although I had a premium seat previously booked due to my status with One World, on this new ticket, I got a brand new seat – smack dab in the middle – next to the only other 6 foot 2"+ tall guy on the flight. Yay.
At this point though, I really just do not care. I crawl into my hoodie, put a sleep mask on and leaned back as we took off from the runway.
24 hours in Doha is enough. 48 hours it turned out was 24 hours too long.
Until next time Doha.
Grow Stronger, Do The Impossible
Get weekly emails on how to build a stronger mind, a stronger body and stronger life and do the impossible.