Blackmail Yourself
Forget New Years Resolutions. They don't work.
If you want to really accomplish some new impossible challenge this year, you need something a little more drastic.
I call this strategy blackmailing yourself and I've used it extensively along with cold shower therapy when I need a kick in the butt and the extra push to get something done. Here's how it works.
Pick A Challenge
Pick a challenge, we've already talked about this before. Make it an specific challenge. It needs at least 2 specific things.
Make it specific.
Give it a deadline.
Those are the basics (we've talked about these before), but we'll make blackmailing yourself a little more interesting.
Find A Blackmailer
You need to find a friend to help blackmail you. Your friend/blackmailer is someone who is going to keep you accountable – no matter what.
Ideally they'll have at least the 3 following traits.
They'll check in on you daily/weekly.
They won't succumb to your sweet talking rationalization.
They'd love to see you fail…but they'd love to see you succeed more.
Point 3 is important, because while they want to see you succeed, they're not afraid to press the button, and enforce your self-imposed consequences if you don't. You might love this person, but you'll swear they're the devil when you're at the worst points in the challenge.
If you think about the challenges we talked about before, you're essentially giving your blackmailer the opportunity to enact a consequence if you don't follow through and do what you say you really want to do.
I usually pick Vic because I know he won't let me talk my way out of it (and I'm a pretty good talker).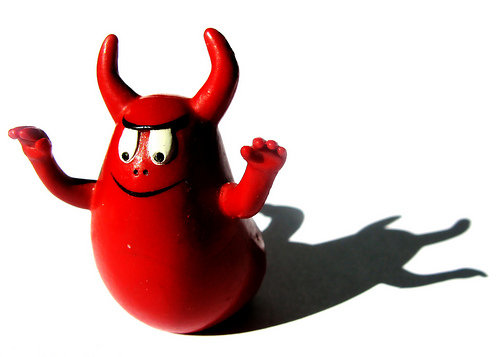 Why This Is Important
Your challenge will be hard. It should be, otherwise you'd already have done it, right? Hard things are easy to want, but hard to do. There will be times in your challenge where you need to do things that you won't necessarily want to do (ex. workout) in order to do the things you really want to do (ex. run an Ironman). Your blackmailer is the one that's going to help you keep an eye on your long term goals and hold you accountable to those and ignore your short-term whining & excuses.
Make The Deal
Make the deal and blackmail yourself.
Force yourself to create a specific challenge to be accomplished by a specific date and empower your chosen blackmailing friend to carry out the consequences if you don't complete it.
Use this template if needed.
If I don't complete _______________ (specific challenge) by _______________ (specific date), I will donate/pay _______________ (blackmailer's name) , exactly $_______________ (an obscenely painful amount of money).
Bet Your Rent
The last part of that contract is important. Whatever the consideration for the bet is, it should be obscenely painful for you to give up if you actually lose.
It doesn't count if you just put $5 on the line. That's not much of an incentive or disincentive. You need to actually blackmail yourself.
Bet something that hurts, give it teeth – Bet your monthly rent.
Whatever it is: $500, $1,000, $2,000. Put it on the line.
"But…but…but…" you might say, "I can't afford to lose my rent!"
Exactly.
That's the point. Make the amount large enough that you're not willing (or can't afford) to lose it. Make it hurt. Then go make it freaking happen.
Why? Anytime you're tempted to skip a workout or cheat on a meal, you'll find yourself asking if it's worth your rent. Suddenly those slices of cheesecake start to seem pretty expensive – because they are.
Make It Hurt
Make blackmailing yourself hurt even more by making sure the money goes someplace terrible. It's helpful if the money goes to someplace or someone that you'd really not rather the money would go to. Ideally you really hate this person one way another.
A few ideas on where you could instruct your blackmailer to send this money.
Pick your least favorite person in the world.
Pick your arch-nemesis
Pick your least favorite charity out there.
To pick out real examples:
If you hate abortion, send it to planned parenthood.
If you're an atheist, send it to Billy Graham.
If you love the rainforest, send it to BP.
If you're a paleo junkie, send it to PETA.
If you're a Republican, send it to Barack Obama.
You get the picture.
You want to make sure the money is going to a person/place/cause that you really don't want it to go to and the only way you can stop it is by completing your challenge.
Game on.
Extras & Add-ons
In addition to the basics above, here are a few extras to get the most out of blackmailing yourself.
Make Sure Your Blackmailer is Evil
There's no sense in having a nice, forgiving blackmailer who's going to love you forever no matter what, and tell you you're special. That's what your mom is for.
You need someone who's going to give you tough love and not listen to your bullsh*t or excuses. You need to make sure they're going to hold your feet to the fire and love you enough to make you do the things you say you want to do – even when they're hard (especially when they're hard).
Write The Check Now
Write the check now and give it to someone. Don't think you can get away with committing to something and writing the check later while thinking you can back out later and cross your fingers hoping that the the other person forgets.
Write the check now.
In poker terms, you need to be pot committed from the start. Make it so you can't back out.
Add A Non-Monetary Reason
Money is a good starter, but you can up the ante and add a non-monetary reason to the deal to boot.
It could be a whole variety of non-monetary consequences, but I've found that the best incentive (other than cash) is public humiliation of some sort – you'll have to do something in public that you really don't want to do.
This could be doing a photo shoot, public announcement, or holding a sign on the corner of the street detailing your sins (I don't necessary endorse that last one).
This can be an even bigger driving factor than cash for some people. Many people would rather cut a huge check than have to embarrass themselves publicly.
For me, it was knowing that I had a photo shoot in 8 weeks. Other times, it's simply signing up for a race beforehand and knowing that I can either train for it, be in good shape for it and enjoy it OR not train for it and hope to God I don't drown.
What Do You Want To Do This Year?
If you have something you want to do this year, take a step past ordinary "new years resolutions." Bet your rent, blackmail yourself and FINALLY make it happen this year. Get after it.
—-
If you want to actually put this into practice, Stickk is a great site that sets up this functionality for you, puts your money in an escrow account and sends it to your blackmailing friend if you don't make it happen.
If you don't have someone to play the part of your blackmailer, add me ([email protected]) and I'll gladly be the do it for you. 🙂
—-
photo credit: Darwin Bell | photosteve101