I love cold showers. I hate them, but I love them because the more I take them, the more I see them as a litmus test for finding out who you are.
In fact, every time someone tries to explain why they don't need to take cold showers before they even try them, I lose a little bit of respect for them.
Why?
Because cold showers are such a simple and accessible way to practice being uncomfortable. There's almost no opportunity cost or downside to taking cold showers. You're just cold for a few moments. Even when people don't believe the psychological/discipline/mental benefits of taking Cold Shower Therapy™, there are still a ton of real world health benefits to taking cold showers.
There are no downsides to taking cold showers. You already take showers, so why not make them work for you? If you need someone to hold your hand while you take them every day for thirty days, I'll do that.
People tell me why they don't need to take cold showers, why they're the exception to the rule, and why this doesn't apply to them, but every single response I get boils down to just one of two excuses.
Reason #1: Inability
You are physically incapable of taking a cold shower. Either the fear of taking a cold shower is absolutely crippling, or your small little bubble of comfort is so vitally important that there's absolutely nothing, nothing, nothing, that's worth ever worth stepping outside of it for.
A few days ago, people were going back and forth on Twitter about #cst and someone said:
"I'll take a hot shower any day… I would rather be relaxed than ticked off."
I find that sad. Not sad in the sarcastic sense, but sad as in this actually makes me sad for this person. Essentially they're saying that their goal in life is to be relaxed rather than to do something important or meaningful that might be hard, difficult, or uncomfortable. Even if it might tick them off.
Now, they'll quickly say, "but it's just a shower. It's not my life," and I will vehemently disagree.
How you do anything is how you do everything. If you let that beat you in the shower, it's only a matter of time until it beats you in life. Consider this quote:
"Bruce had me up to three miles a day, really at a good pace. We'd run the three miles in twenty-one or twenty-two minutes. Just under eight minutes a mile [Note: when running on his own in 1968, Lee would get his time down to six-and-a half minutes per mile]. So this morning he said to me "We're going to go five." I said, "Bruce, I can't go five. I'm a helluva lot older than you are, and I can't do five." He said, "When we get to three, we'll shift gears and it's only two more and you'll do it." I said "Okay, hell, I'll go for it." So we get to three, we go into the fourth mile and I'm okay for three or four minutes, and then I really begin to give out. I'm tired, my heart's pounding, I can't go any more and so I say to him, "Bruce if I run any more," –and we're still running-"if I run any more I'm liable to have a heart attack and die." He said, "Then die." It made me so mad that I went the full five miles. Afterward I went to the shower and then I wanted to talk to him about it. I said, you know, "Why did you say that?" He said, "Because you might as well be dead. Seriously, if you always put limits on what you can do, physical or anything else, it'll spread over into the rest of your life. It'll spread into your work, into your morality, into your entire being. There are no limits. There are plateaus, but you must not stay there, you must go beyond them. If it kills you, it kills you. A man must constantly exceed his level." – Then Die
Every time I read this, I always end up coming back to this one part:
If you always put limits on what you can do, physical or anything else, it'll spread over into the rest of your life. It'll spread into your work, into your morality, into your entire being.
How you do anything is how you do everything.
If you physically cannot take cold showers (not even for thirty days, but just for five minutes), just say that, but know that if you put a limit on one area of your life (even if it's as dumb as the temperature of your shower), it's going to carry over into other areas of your life and there are going to be other areas where you "can't" do something because you're not willing to make the trade-off.
This is where a lot of people say something like:
"Well, you don't understand… I really like hot showers."
Well, yeah, so do I. In fact, I completely understand. That's normal and that's exactly the point. By taking a cold shower, you're choosing to do something you wouldn't normally do, even though it may be uncomfortable.
People love this theory of being uncomfortable (they'll comment on the posts, pin the crap out of the image above, and tell you in person that it's a great talk), but as soon as you ask them to put it into practice, with something as simple as cold showers, their real character shows. It becomes very apparent whether they actually want to start doing something or whether they just want to browse through inspirational porn and live vicariously through other people.
Cold showers can train you every single day to do something and make the tougher, more uncomfortable choice.
Reason #2: Arrogance
This might be the most dangerous excuse out there. Sadly, it's also more common than the first excuse. The first thing 90% of people say when they hear about Cold Shower Therapy™ goes something like this:
That's stupid.
That's so dumb.
There's no way that's actually helpful.
That's a stupid idea and you should feel stupid.
You're a terrible person, Joel, and I hate you.
See, it's not enough for someone to just think the idea's stupid. They have to let you know how stupid they think the idea is. I got this email from an ex-subscriber a couple of months back (the name is hidden to protect the innocent arrogant).
Yes, Bill Gates and Pres Obama are successful because they take cold showers. I'm unsubscribing, you must think we're real idiots.
My response: See ya!
I'm okay with these people unsubscribing because I don't want that type of audience. I don't want a bunch of readers who are trying to rationalize their comfortable lives. I want doers.
What's funny is that every person who sends me a response like this thinks they're original. They somehow think that I haven't heard their excuses before.
I've got bad news. These excuses are not original. What these people think is exactly what I thought when I started taking cold showers. It's what everyone thinks when they start. But guess what?
If you're so arrogant that you judge and dismiss an opportunity to get better without even trying it, that's going to seep into every area of your life.
I talk about being uncomfortable with endurance sports and life in general and I understand that not everyone will run a marathon, jump out of planes, or travel around the world. Those things don't appeal to everyone. They can seem like lofty, crazy, impossible goals. I get that.
But a cold shower?
All it takes is five minutes of doing something that you already do every day to test a theory. If you think your five minutes are too valuable to spend even attempting such a thing (even if for no other reason than to shut me up), you might have an arrogance problem. That arrogance problem is going to keep you from doing some pretty amazing things (that might also sound a little bit stupid at first).
Why This Matters
So, why does this matter? Why won't I just shut up about this already? Well, the two reasons that most people miss out on opportunities in life are the same reasons that most people refuse to take cold showers.
Inability To Become Uncomfortable
The inability isn't really an inability to do the thing at all. It's an inability to make yourself uncomfortable. It's an unwillingness to make the trade-off necessary to get the desired results.
Don't be upset about the results you didn't get with the work you didn't do.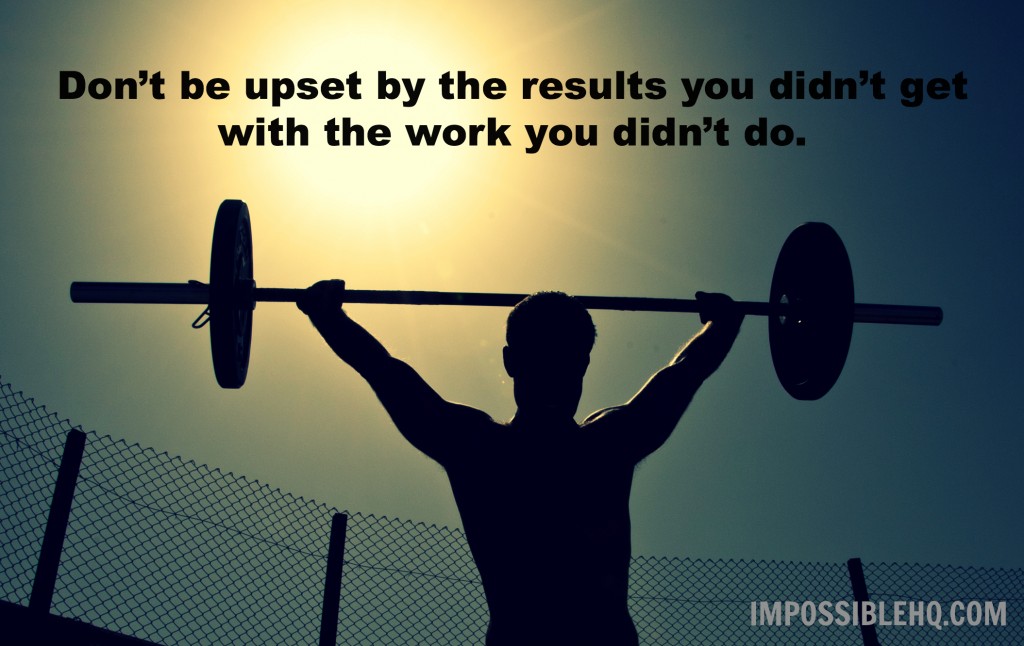 People do this all the time, whether consciously or unconsciously. They give up before they even start. They pre-disqualify themselves. They become "unable" to do things. They take away any power they have to change things. They let life roll over them simply because it's "too hard" to do the things they say they want to do and they settle for doing the stuff that's easy, comfortable, and "normal."
It's an incredibly dangerous mindset to have (and one that I had for years). This is how so many people don't even try to do the things they want to do.
Arrogance
This is equally as dangerous.
If you've ever seen even a tiny bit of success, the most important thing in the world is realizing that you don't know it all. You have to cultivate an attitude of humility. If you fail to do this, you'll think you're invincible, immortal, or above the rules, and you'll begin your descent downwards.
Pride comes before the falls over and over and over again.
So, before you start to say, "I don't need to take cold showers because of XYZ and because I'm the exception," pause for second and realize that that's what everyone says.
That's not a figure of speech. Literally everyone says that.
And they're all lying to themselves. Until you step into the cold water, you're lying to yourself.
Because the only people that don't need to take the cold showers are the ones who are already in the shower before they finish reading this article. Because they're not looking for reasons to stay comfortable. That's not their main concern. That's not their primary aim. They're looking for reasons to get better. So, when they're offered a way to get better, like taking five minutes of cold showers, it's a no-brainer for them.
They do a super fast cost-benefit analysis in their heads:
Worst case scenario: They're cold for five minutes and they hate this guy from the internet named Joel Runyon.
Best case scenario: They might get better in some small way that they weren't aware existed before.
Impossible doers are willing to try. They know they don't know everything, so they're willing to experiment.
They're people like Rita. She thought I was crazy but she decided to try cold showers anyway. So she took thirty showers in thirty days. Then she decided enough was enough. She decided to take control of things in her life and take 365 cold showers in a row because she could. Over the course of that same year, she dropped seventy pounds because she could. Because she was in control. Because she was OK with doing things that made her uncomfortable.
The Challenge
If you haven't taken a cold shower yet, no matter what your excuse is – whether it's a crippling addiction to comfort or an attitude of arrogance that tells you that you can't possibly benefit from Cold Shower Therapy™ -, all I ask is one thing.
If it's really not that big of a deal, do me a favor. Take five minutes and shut me up.
Be willing to experiment.
Five minutes. One cold shower. Try it.
The Official CST App