You may have seen this quote before:
Hard times create strong men.
Strong men create good times.
Good times create weak men.
Weak men create hard times.
The quote originates from – Those Who Remain by G. Michael Hopf which is a post-apocalyptic science fiction book, but there's a reason it rings true.
Things are easier than ever. You have access to more computing power on whatever you're reading this on than the rocket that sent the first people to moon. Less people than ever live in poverty, die of preventable diseases, and our biggest food issues are ones that come from people eating TOO MUCH.
Yet people are unhappier than ever.
So what do you do? You take on hard things. You become stronger.
CoronaVirus Update 2020
Well, it seems we tipped over into the hard times section. A lot of people are going to have to get stronger and more resilient – whether they want to or not. Here's who you do it.
How To Become Stronger
Fix Your Mind
Read IMPOSSIBLE. Take action.
Listen to these guys when you need to straighten out your head.
David Goggins
Jocko Willink
Joe DeSena
Jordan B. Peterson
Get out of your head and into your body. Become disciplined. Focused. And do the things you say you're going to do.
Build Your Body
Want to see the fastest way to realize that you can change things in the world? Look in the mirror and start with yourself. Get stronger, get faster, and build yourself a body capable of doing whatever adventures come your way as you set on a mission.
Speaking of which…
Create a Mission
Create your impossible list. Find a mission that pushes you to your limit. Then set yourself ablaze going after it.
Just because times are good, does not mean you have to become weak. Fight it, be better. And if just because times are bad, doesn't mean you can't withstand them.
Be stronger. Become resilient. Do Something Impossible.
Hard Times Create Strong Men Poster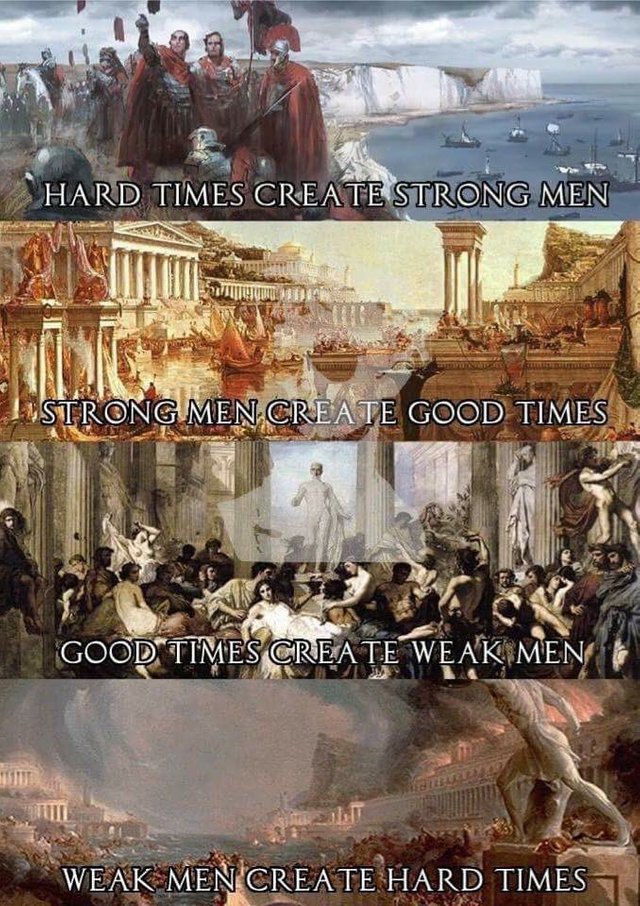 Similar Quotes