After 777 finished in Cape Town, I swore I was done for the year. I needed to recover, do some physical therapy and get strong again.
Then I found myself running across Liechtenstein and Monaco. I swore I was done after that.
Then I heard about Hell on the Hill…and..well…you can probably guess where this is going.
Hell on the Hill isn't a race as much as it is a challenge – 100x up (and down) a hill in Jesse Itzler's backyard in Connecticut.
Doesn't sound that bad , right? That's what I thought.
— zoom in on Jesse's comment —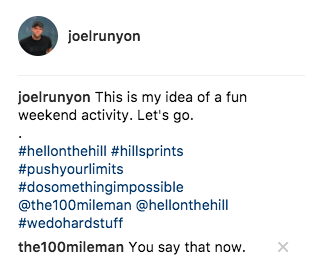 Oh no.
I trained hill sprints to get ready, but I didn't know what I was getting myself into.
Again, the hill doesn't seem that bad and it doesn't even look that bad on the website, but it's a different thing when you see it in person – it's no joke – especially the last 8-10 feet of it or so.
It's almost un-runnable and even if you can, it's faster for most people to power-hike it. I should have known. Jesse told me earlier that week – "there are no comps – the hill has it's own personality and anger."
@the100MileMan any good park spots or hills in NYC/Brooklyn that are good comps to "the hill" to get a few training reps in for HOTH?

— Joel Runyon (@joelrunyon) July 23, 2017
@joelrunyon there are no comps. The Hill has its own personality and anger. Find a steep grass hill that's 100 yards. https://t.co/nTgtY9cw0G

— Jesse Itzler (@the100MileMan) July 23, 2017
"The Hill has its own personality and anger"

— Joel Runyon (@joelrunyon) July 23, 2017
Translation: my hill sprint training wasn't going to help a lick.
The day alternated between rain (100% CHANCE OF RAIN) and sun. While the rain made the grass super-slippery, it was better than the sun coming out (I do horrible in heat – see Thailand).
After the first 20 hills, I thought to myself, "this is going to be a long day."
It took me about 40 hills to get the feel of the hill down. I started off slow because I didn't want to burn out early, but I realized that was taking just as much energy to brake down the hill as it was to just go fast.
So I sped up – I'm not sure if they have splits from the weekend, but I think I might have had a negative split just because I got more comfortable with the hill as time went on.
We had individual clickers, but by the middle of the race, I stopped looking at it every time up and down and tried to just check in every 5-hills or so.
At 70 hills, I saw the light at the end of the tunnel and thought to myself, "Only 10 more hills until I only have 10 more hills until I have just 10 hills left!" The power of positive thinking!
I finished 100 and did a bonus lap just for me.
Done & Done.
The immediate aftermath didn't feel horrible (more on this in a second) – but during the race it was just TOUGH. You couldn't go that fast up the hill and while you could make up a ton of time on the downhill, you had to manage your heart-rate and it took me a few dozen times before I got the feel for it.
HOTH was one of the most unique challenges I've done. It's tempting to run off to other countries or do races with exotic obstacles, but the cool thing about HOTH was that there was nothing else needed besides yourself and one massive hill.
Huge thanks to Jesse & Sara for hosting everyone and putting on this event. On top of throwing the event & hosting it all, they donated $1,000 to the charity of choice for each runner. That's about $70,000 raised to all the different charities (and over $250,000 since Hell on the Hill started). They also let us mangle up their entire back yard – if you can imagine what it's like after 3-4 hours of rain and 70 runners running up and down it 100x.
Before the race, everyone went around and talked about the charity they were running for. Two stories stood out:
Dan Lasko
A Marine Vet who lost his left leg below the knee in Afghanistan was running the race to raise money for the Semper Fi Fund and did it all with his prosthetic.
Saila Hanninen
Saila was diagnosed with Lung Cancer 4 weeks before the race. Despite all that, and the incredible toll the race tkaes on your heart + lungs, she did the race like a boss. You can read more about her story here.
I like to do hard stuff, but when I see other people around me doing stuff like – I realize I need to do a reality check and it always makes me ask myself:
What's Your Excuse?
Post Race Assessment
Post race, I felt "okay." Sunday I was a little sore. Monday, I could barely walk around New York. My calves felt like they were swollen. Everything from my calf around to my shin felt ready to explode and walking up the steps from the subway seemed like a challenge.
Hard. But totally worth it.
Hill: Hopefully I see you next year.
///
Quick Note: Jesse is doing a ton of cool stuff around fitness + philanthropy (he calls it Fitlanthropy) this year.. if you're interested in doing some of this stuff, join his (FREE) group – WeDoHardStuff.com.
They do a different challenge each month + he donates $100 for each finisher. In June, we built a school with Pencils of Promise! This month they're working with Save the Children. Every month it's a new challenge and a new charity.
You can also read Jesse's book (it's a quick read) Living with a Seal – about the time he invited David Goggins to live & train with him for a month. If you want a quick version, here are 4 horrible workouts from the book that will kick your butt.
///
Photos from The Hell on the Hill 2017