Get the exact protocol & programming I used to get six pack abs in 8 weeks here.

---
UPDATE: If you'd like to see better photos than the "mirror" shots here, you can see a selection of the photos from our shoot here, which gives a much better overall view of how I looked when I finished this program.
This past spring I started a fitness regimen where I lost 34 pounds in 8 weeks, dropped to 5.4% body fat and FINALLY got 6 pack abs in less than 30 minutes of exercise a day WITHOUT stepping foot into a gym. This is what that change looks like.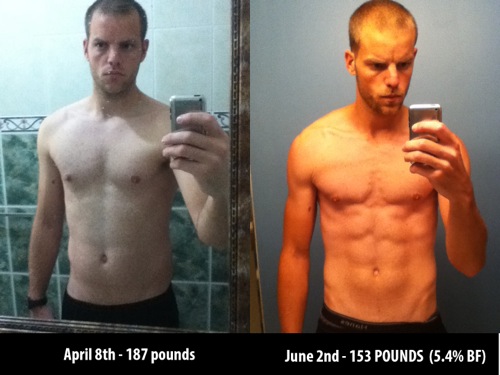 Yes, I'm finally joining the vanity ranks of Steve and Matt in posting half-naked photos of myself online. Also, judging by traffic spikes from my announcement post last week, my new approach to the site should be less photos, and more blogging. I mentioned this on the facebook page and marketing expert Brendan made a great insight 🙂
If getting half naked increases your traffic getting full naked should double it then right?
Makes sense to me.
Fortunately for everyone involved, that's not one of the things on my impossible list, so there won't be any of those coming up, I will tell you the story of how I lost 34 pounds in 8 weeks, dropped to 5.4% body fat and finally got 6 pack abs in less than 30 minutes a day with ZERO gym equipment.
Here's how I did it.
Getting Started
Like every other guy on earth, I've wanted six pack abs forever. I've done sports since I was a kid and tried everything in the book to get them, but I never was able to get quite there. When I first wrote out the impossible list, it was one of the first things on it, but for the last two years, the "get a six pack and do a photoshoot to celebrate" has been sitting there – daring for me to attempt to do it.
So, over a "few" drinks during St. Patricks Day in Austin with Vic, I decided enough was enough – six pack abs were to be mine – no matter the cost! I was sick of excuses and wanted to make them non-existent throughout this process.
So I did the hardest part of the entire project – I committed.
Over the next few days, Vic and I put together a plan of action. I made a list of changes I need to make, kickstarted it with a round of Cold Shower Therapy to make sure they stuck.
On top of that, I called up Spyr Media, threw down several hundred dollars for a photo shoot and picked out a date and signed a contract. I also made a pact with Vic: If, by the end of the 8 week program, I didn't have a six pack, I would give him $500 to give to my least favorite person in the world and the worst possible organization I could think of: Steve at Nerd Fitness.
That did it – there was no way in hell Steve was ending up with my money :). Game on.
Diet Diet Diet
Diets suck. I hate them. I have the biggest sweet tooth out of anyone I know and I have such a lack of self-control when I'm around candy that 4 year olds are embarrassed for me. My lack of self-control is so terrible, it's practically non-existent
Oh, sure I'll have a cookie…or 10.
Of course, I'll just have 3 oreos…or… 3 packages.
One thing I've learned about myself is that: I'M ABSOLUTELY TERRIBLE AT MODERATION. I either go all out or nothing. so when it came to dieting, I went all-out.
I've never watched what I've eaten before, but I went on a incredibly strict-paleo diet. Traditionally, straight paleo would usually be considered only meats, eggs, vegetables, fruits and nuts. I did that and went even a little more overboard. I also cut out dairy, almost all nuts and most fruit (especially for the last 5 weeks) – and I've got the nutrition logs to prove it.
That left meat, vegetables and eggs. Over and over and over again. Let's just say that I single handedly diminished the chicken population within a 10 mile radius of my house and ate broccoli like it was going out of style. I cooked large amounts of  food a few times a week and ate the same types of meals over and over again because it was simple and effective. Yes, sometimes it's boring, but I also learned to like it. I had to make things stupid-proof and I started to channel my lack of self-control with candy and sweets into a sort of addictive personality trait towards healthy eating and made a game of it with myself.
How much broccoli can I eat?
I bet you won't eat that entire bundle of asparagus!
Isn't this avocado incredibly tasty?
(The fun part about this, is that as you wean yourself off of the crap food that's known as SAD – or the Standard American Diet – you start to realize that broccoli is actually really good, asparagus off the grill is amazing and avocado is good with anything).
Throughout all of this, I only ate natural food and used ZERO supplements including no vitamins or whey protein. Like I said – I didn't want any excuses for why I couldn't do this.  You don't need to have a Whole Foods, GNC or anything else to make this work. You just need real food.
The Insider Secret: The main strategy in the entire diet program is cutting out sugar – which is incredibly difficult to do in today's culture – where people are protesting over not being able to chug sugar-infused drinks over 16oz (seriously?). But if I had to attribute my success to one thing it would be to cutting sugar out of my diet.
The Workout Plan
I was sick of having excuses (and I'm good at making up excuses). I made excuses every time I didn't want to work out.
I didn't have the right machine.
I didn't have access to a gym.
The gym was too far away
Whatever excuse you could think of – I made it. I B.S'ed myself with those excuses for the last 25 years – I was sick of them! I didn't want a single excuse to get in the way of this goal.
I wanted my workout regime to be one that I could do anywhere in the world and have no excuse for NOT doing them. If I didn't do a workout, it wasn't going to be because I didn't have the right piece of equipment or the right place to do it. It was going to be because I was simply too lazy to do my workout and there would be no excuse, no way for me to hide from that – even if I wanted to – and every time I looked myself in the mirror I would know it. It was on me.
As a result, we created a bodyweight circuit routine that required almost zero equipment. In fact, the only two items you need besides yourself are a pull-up bar (also  known as a tree branch, jungle gym bar or anything else you can pull yourself up on) and a jump rope which costs less than $10 and fits in your back pocket. Both pieces of equipment are optional (you can makeshift your own pull up bar and jump plenty on your own without a rope), so you can do all the workouts involved in the program even if you don't have them.
As proof, here's the complete list of exercises I did throughout the entire program:
Pushups
Burpees
Squats
Lunges
Jumping Lunges
Pullups
Body Rows
Plyometric Pushups
Sprint intervals
Jumprope intervals
That was it.
I couldn't believe it either. Sure, I did ab exercises, but when I did, I didn't need a special machine that was only 3 easy payments of $97.97 and had to purchase off a late-night TV commercial.  All bodyweight exercises were simply using our body where we focused on utilizing the core, and stabilization muscles and all direct ab workouts were sans-machine.
Throughout my workouts, I would do 3 rounds of the circuit workouts – keeping my reps the same  – but as I progressed, if I found that if things seemed to be getting easier, I would add another round to the set.
I worked out 6 days a week and all of my workouts were done in less than 30 minutes. I realized you don't need a gym membership, 4 hours a day, or special machines bought from TV to get in ridiculously good shape. You just need your body, the right plan and the will to do it and be consistent.
The Results
In total, I lost 34 pounds in 8 weeks. That's about 4.25 pounds/week. Most weeks I lost about ~5 pounds, except for week 3-4 where I an extraordinary amount of peanut butter and saw my weight loss plateau. After getting my butt kicked by Vic via Skype, I refocused, cleaned up my diet and finished out the rest of the weeks on a very strict diet.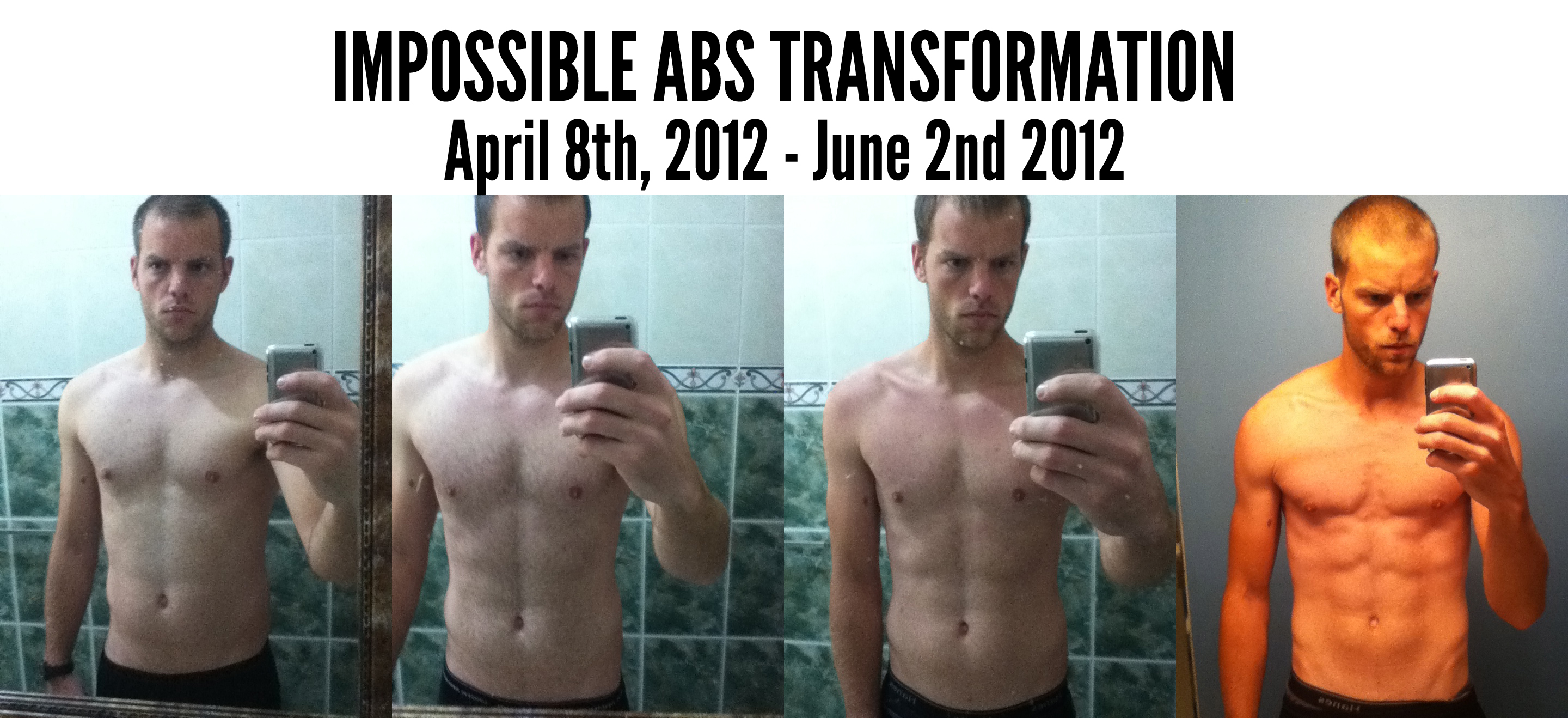 [click for full-res version]
[click to biggify]
34 pounds in 8 weeks in photo, chart and graph form #boom. Here's my final weigh-in an hour before the shoot at 153.2 lbs & 5.4% body fat (InBody is 98% accurate).
The Key Elements of Impossible Abs
This was one of the most intense impossible things I've done to date. When I started it, I actually thought it was impossible – I really did. I'd always been an athlete, and always worked out and never been able to get a six pack. In my mind – I couldn't do it. In reality – it wasn't that I couldn't do it, it was that I didn't know the right things to do. I didn't have a plan and I never committed to actually doing it – I just threw a bunch of "good advice" together and did it whenever I felt like it. Suffice it to say it didn't work.
So what made me successful this time around? Here were my key elements to success with six pack abs:
Maintaining a Strict Diet
I was crazy strict on my diet. I have one of the worst sweet tooths imaginable. Like, I said, I'm like a 4 year old – I love candy – or at least I used to (it gives me a headache now). I know what it's like to go through that sugar withdrawal, but I decided that getting in the shape that I really wanted was more important than eating 3 servings of desert that I thought I only kind of wanted. I cut back and I cut back hard. I also implemented fasting – which was a new endeavor for me.
Having a Coach and Partner
The initial money outlay was motivating for the first 3 days, but after I started doing it – I wanted to do it for me more than I wanted to not give money to Steve. However, having someone to vent to is important. I would email Vic whining about how tired I was and then 15 minutes later I would feel better, email him telling him to ignore said previous email and move on.
Tracking Weekly Progressions
Making myself take weekly photos meant that I could focus on seeing my progress on a weekly basis – rather than a daily one. This let me see actual progress without getting discouraged on day-to-day fluctuations and let me see improvements. The one week I didn't see any weight loss was a kick in the pants to stop being lazy on my diet, flip a switch in my head and really get after it.
Believe You Can Do It
Most importantly, you have to believe it's not impossible. With the right plan, coach and dedication, you can do anything you want. Because of that, we'll be releasing "Impossible Abs" in the next few weeks in order to help you do just that. Whether you want to lose weight or get a six pack, you need to know that it's possible if you follow the plan.
To be honest, I was pretty hesitant about actually doing anything with this case study and training program for a couple of reasons:
The vanity metric in these posts is off the charts. I think I have more half-naked photos of myself than I know what to do with (seriously, the Spyr team sent me some 800 photos from our shoot – as in EIGHT HUNDRED. What am I going to do with all these?). If I ever tried to get a real job, the google image search of me is going to get me into trouble.
The weight loss and six pack space online is notoriously evil for preying on people with "lose weight fast" and half-truths promises that prey on people looking for a quick and easy fix without actually making changes to their lives. I DON'T want to be in that camp.
But as I kept mulling over this program, I realized a few things:
I don't care about the vanity metrics. I used to be self-conscious about it, but I would have done this if no-one knew about the blog (like when I started) – or thousands of people were like they are now. I didn't do this for anyone else besides myself.
I realized that nothing is ever improved by avoiding it. If I stood around and talked about why the online fitness industry is terrible and they should do things differently, I would probably end up just standing around and talking while they continued to keep doing the same thing they always do. But, if I can provide a better alternative (that doesn't make your skin crawl when you read a sales page) and engage the industry, I can change things. When you infiltrate a group, organization, or industry, you can force everyone else to raise their standards as well.
I'm tired of junk information being passed around and wasting people's time and I don't want to just let it keep happening. Yes, I did this in  8 weeks. Yes, it was fast, but it was not easy. You can have one or the other, but not both.
So that's why we're doing this. Six Pack Abs ≠ Impossible. It's not easy, but they're totally worth it. If I can do it – you can do it.
We'll be releasing the full case-study and accompanying training program in the next few weeks. If you want to get "Impossible" Abs, sign up here.  
Impossible Abs is now Available here.

UPDATE: If you'd like to see better photos than the "mirror" shots here, you can see a selection of the photos from our shoot here, which gives a much better overall view of how I looked when I finished this program.
Get the exact protocol I used to get six pack abs here