Sir Roger Bannister was the first man to run a mile in under four minutes. Up until he did it in 1954, most people thought the four-minute mark was impossible to break. They thought the human body couldn't physically go that fast – that it would collapse under the pressure.
No-one could run a mile in less than four minutes.
It was impossible.
You were crazy to even try.
That was, until Bannister proved everyone wrong, training in his own way, often for not very long at all compared to his competitors, and believing that he could do it.
Bannister wasn't born with a silver spoon in his mouth.
Bannister came from an ordinary working class family. He wanted to study medicine, but he knew his parents would never be able to afford to send him to university.
By the time he was ten, he thought life was so boring that he was actually pleased about the second World War. He thought it would 'liven things up a bit'.
Needless to say – if war is the only thing you're looking forward to – things aren't looking to great for your story.
Bannister Decided To Change Things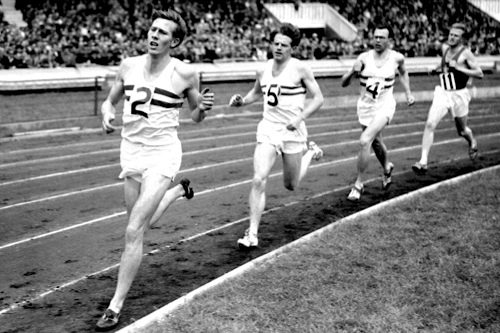 He discovered he had a talent for running and knuckled down to train. He decided to win a university scholarship – which he did. His hard work paid off – he won a track scholarship to Oxford University.
While he was at university, the press got wind of his talent. While he declined to compete in the 1948 Olympics, watching it inspired him to push forward & compete in the 1952 Olympics. At this point, expectations were high – Bannister expected to win the 1500 meters. Britain expected him to win. Everyone expected him to win.
But, at the last minute, the schedule was changed, disrupting Bannister's resting routine and he came in fourth.
He Failed To Medal At The Olympics
And he was gutted – so much so that he spent the next two months deciding whether or not to quit running.
In the end, he decided to prove to himself, and to everyone else, that he could do better. He decided to use his pain and humiliation to drive himself forward and push his limits.
In the 1940s, the record for running a mile had reached 4:01. But it hadn't budged since. Some doctors and scientists said it was physically impossible to run a mile in less than four minutes. Not just hard, or dangerous, but impossible.
Bannister decided to do it – to run a mile in less than four minutes.
A literally impossible feat – something that had never been done.
He stepped up his training. He trained for half an hour a day, doing intense speed workouts. He used a pacer and his time went down. He was seconds off of breaking the four minute barrier. The four-minute mile was within reach. He started to see it as possible.
But Bannister wasn't the only one going for it. Lots of runners were hot on his heels, including his main rival, Australian John Landy. It was a race to the bottom and Bannister wanted to win.
Bannister's chance came on May 6th, 1954.
The experts believed that the record would only be broken on a day with no wind, at 20 degrees Celsius, on a hard dry clay track, probably in Scandinavia, and in front of a huge cheering crowd of tens of thousands of people. Ideal condiitons.
May 6th, 1954 was no such day.
It was cold, the track was wet, and there were only 3000 people in the the Iffley Road crowd. Bannister had rested for five days before because he'd reached his peak, both physically and psychologically. 
It wasn't looking good. Again.
But Landy was already on his way to Finland for his next shot – in the supposed "ideal" conditions.
Bannister knew that if he didn't break the record that day, Landy might beat him. There were no other options.
Bannister spent the morning at the hospital where he was working towards his medical degree. He was worried about the weather – the wind was strong that day. By the evening, it was raining. By the time the race began, the wind was up to fifteen miles an hour.
He decided to run anyways.
Six men entered the race. Straight away, Bannister and Brasher took the lead. Brasher led the first half-mile. Chataway was right behind Bannister. Then he overtook him.
Bannister began his last lap with a time of 3.07. He needed to do the last one in 59 seconds.
He flew past Chataway onto the last straight. He knew this was it. The world stood still. It was just him and the track.
He was exhausted but, driven by the years of training and his determination, he crossed the finish line and collapsed – exhausted.
The announcement came…
"Ladies and gentlemen, here is the result of event nine, the one mile: first, number forty one, R. G. Bannister, Amateur Athletic Association and formerly of Exeter and Merton Colleges, Oxford, with a time which is a new meeting and track record, and which—subject to ratification—will be a new English Native, British National, All-Comers, European, British Empire and World Record. The time was three…"
The announcement was drowned out by the crowd.
Bannister had finished in 3:59.4
He'd done it.
He'd broken the world record
He'd done what so many believed was impossible.
He'd made history.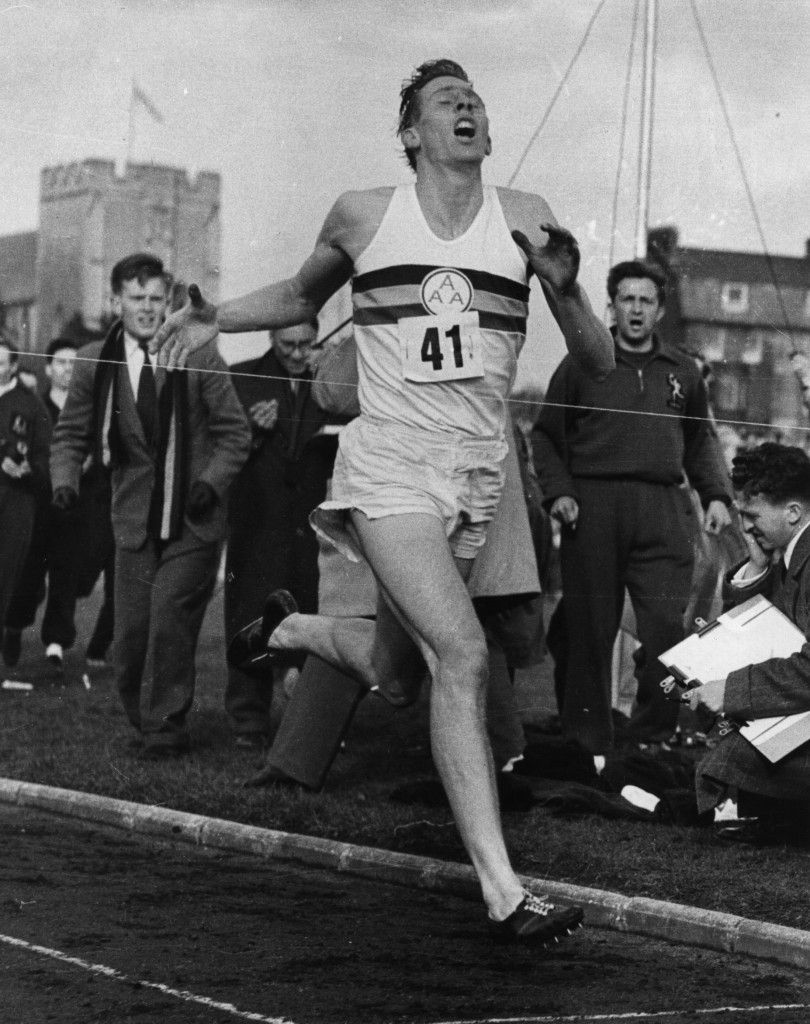 Bannister Opened The Door For Others To Do The Impossible As Well
Bannister later said that he believed Landy had lost heart – the four-minute mark had become a barrier for him.
And yet, just 46 days after Bannister broke the record, Landy beat his time.
Over the next few years, more and more people broke through the four-minute mark once they realized that yes, it was possible.
Once Bannister proved that it was possible to run a mile in under four minutes, suddenly everyone was able to do it – proving an important lesson: once you stop believing something is impossible, it becomes possible.
Roger Bannister changed his story.
He was just an ordinary boy. There was no reason why he should have gone on to do anything great. He was just a working class boy who wanted to study medicine.
But Roger decided to change things.
But he refused to settle.
When no-one believed his goals were possible – he did. When he failed publicly, he picked himself up, and carried on. When his competitors were hot on his heels, he picked up his pace.
He took things into his own hands, and decided to tell a better story. And in doing so – he did the impossible.
—
Photo credit: Getty Images/Daily Mail | Worldinsport | Norman Potter/Central Press/Getty Images