Last updated November 7th, 2020
The impossible list is NOT a bucket list. Not too long ago, I used to settle for the possible things in life. The sure thing. It was "realistic", "safe" and boring as hell. I decided I needed a challenge.
The impossible list is that challenge. This list of impossible things contains all the things I ever thought I couldn't do because it was "impossible." The sort of things that I assumed the cool guys on TV only ever got to do. The things I never thought that I would be able to do.
This is my list of impossible things. I'm constantly crossing things off it as I accomplish them and adding to it when needed and I'll be making regular updates about my journey on the blog.
Since I've started, I've gone from living in my parents basement to running my two of own businesses while traveling to 41+ countries adn running ultra marathons on every continent. Meanwhile, we've found a way to give back to organizations that promote entrepreneurship and education and have even downsized my "stuff" to just 97 things.
But I'm not done yet – every time I find a new edge of what's possible, I keep pushing and find the next level.
If you're bored of a bucket list, tired of simply attempting what's considered "possible", or just want to try something different. This blog is for you.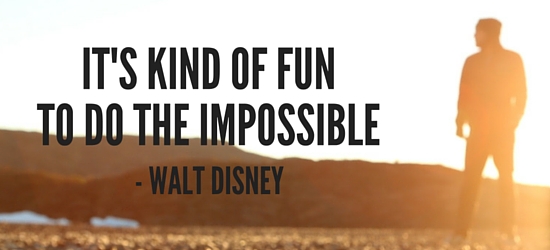 Feel free to follow my journey and Subscribe via email or start your own impossible list and send me an email to let me know.
Here's my impossible list.
The Impossible List™
Active Items
These are some items I'm currently working on.
Sub 6 minute mile
20 Consecutive Pullups
Planch Pulups (10)
Getaway Backpack – Link
Life
Fitness
Run a 5k

[Jan 11th, 2009]

Run a 10k

[

October 2nd, 2010

]

Run a Half Marathon

[

June 11th 2010

]

Run a Marathon [May 15th 2011]
Run an UltraMarathon

[October 27th 2012]

Run a Triathlon – Fake Triathlon

[

October 4th 2010

]

Run a Triathlon – Sprint Distance

– [

June 17th 2010

] [

Results

]

Run a Triathlon – Olympic Distance

[

August 28th 2010

]

Run a Triathlon – Half Ironman

[

October 30th 2010

]

Run a Triathlon – Ironman
Run a Duathlon – [October 4th 2015]
Run a sub 6-minute mile
Learn parkour and make an awesome montage video

[

February 4th 2016

]

Get a six pack and do a photo shoot to celebrate

[

June 2nd 2012

]

100 consecutive pushups

[

April 14th 2011

] [

Original Failure

]

200 consecutive squats

[

October 31st 2010

]

25 Consecutive Pullups
Do a Planche Pushup (Do 10)
Do a Fingertip Planche Pushup (Do 10)
Do 10 Freestanding Handstand Pushups
Go Slacklining
Complete a Century Ride

[November 5th 2013]

Run Tough Mudder

[May 19th 2015]

Finish the GoRuck Challenge

[June 1st 2013]
Travel
Visit Every Continent

[January 20th 2017]

Go Swimming in Every Ocean
Travel For 1 Year Straight

[

June 30th 2017

]

Get a 2nd U.S. Passport
Obtain dual citizenship with another country
Become an Estonian E-citizen

[

August 8th 2016]
Own a small flat in 4 different countries.
Live on the beach in some tropical country for 3 months.
Do A Cross Country Road Trip And Make a Film About It
Do A Round-The-World Trip And Make A Film About It
Visit All 50 States (49/50)
Visit 20 Countries
Visit 50 Countries
Visit 100 Countries
Visit 150 Countries
Visit all the Countries (current total: 47)
Start Impossible Island – Link
Minimalism
Go without internet for a month [July 31st 2009]
Go without a car for a month

[February 29th 2012]

Count & document all my crap

[February 28th 2014]

Own less than 300 things

[

May 2nd 2014

]

Create a "Getaway" Backpack – Link
Adrenaline Rushes
Misc.
Events to Attend
Visit Burning Man And Document It
Participate in Tomatina
Running of the Bulls
See The Northern Lights & Make A Time Lapse Film Of It
Coachella
Bonarroo

[June 1st 2013]

SxSw

[May 31st 2012]

Lollapalooza
Mardi Gras
Carnival (Brazil)
Renaissance Man
Learn To DJ
Learn to Fly A Plane
Learn To Breakdance
Create a video that gets international coverage
Get To Space
Languages
English
Spanish
Mandarin
French (2% fluent according to Duo Lingo, Feb 2016)
Entrepreneurship
Start my own marketing agency [December 12th 2011]
Make a full-time living online

[31st December 2012]

Start an international company

[

February 12th 2012

]

Put $100k in the bank
Give $100k away

[

December 31st 2016

]

Create a 7-figure company
Build a team of 5 at IMPOSSIBLE
Make Impossible HQ into a Business

[

May 13th 2012

]

Speak at a Fortune 50 Company

[

February 17th 2012

]

Create an Apparel Line

[

October 3rd 2011

]

Get Something Named Impossible
Get Sued By A Multi-Millionaire

[

January 31st 2014

]

Start A Business Incubator
Write an e-book

[

December 25th 2010

]

Publish a real physical book

Start a successful blog (50,000+ subscribers)

you can too
Start a second successful blog

–

Link
*If you, your business or brand are interested in helping me make one or any of these impossible things a reality, get in touch.
What's On Your Impossible List?
Free Templates
We've put together some handy templates to help you start your own Impossible List. Check these out on your favorite platform and get started!