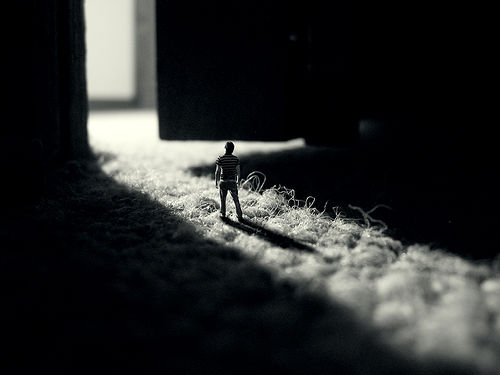 Greetings from San Antonio, Texas! We're 3 days and 4 cities into the trip so far. It's a little chilly down here, but not quite as cold as Indiana [which got almost 3 feet of snow the day we left–warmth is a relative thing, right?]. We'll be trying to outrun the cold as we head down to South Padre Island for the next few days and I'll being doing my best to shoot a bunch of video postcards on the way.
—
Surrounding yourself with like minded people can be awesome. The encouragement you receive and the focus you're able to achieve can be incredible. Because of this I believe that surrounding yourself is essential if you're ever going to do anything impossible. This week I've actually been putting it into practice and meeting up with lots of different people on my border to border road trip and the more people I meet, the more I'm convinced that creating a circle of like-minded people should be a non-negotiable task on your to-do list.
But there's a danger to it as well…
….and a lot of people fall into it.
The Hidden Danger
Like a lot of things in life, the thing that makes something so great, is also the biggest drawback. In this case, the danger is the like-mindedness itself.
When you surround yourself with only like-minded people, it's very easy to stop there and just surround yourself with people who agree with you because you all have the same beliefs, think the same way and do the same things. It becomes very easy to simply accept that something is true because enough of the people around you say it's true and accept that what you believe is right just because people around you say it's right.
Instead of wrestling with hard questions, you settle for token answers to token questions. Instead of legitimately asking questions that might challenge the way you think, the things you do and the things you think are possible, you let the beliefs of your group guide you and group think takes over.
You adopt their viewpoints, their mantras, their quotes, their hobbies and their interests. You'll see this behaviour everywhere, from people in churches to politics to sports teams to blogging circles. Instead of resulting in a thinking group of people constantly questioning "why?" and searching for the best answer possible to all the hard questions, it's very easy for your like-minded group of thinkers to turn into a nice little circle where everyone pats each other on the back. Telling each other how good/smart/interesting each one of you are while insulating themselves from any type of dissent and ignoring the hard [and oftentimes legitimate] questions that other people have about the way that your little group does things.
A Better Way
Don't just surround yourself with like-minded people. If you're a paleo dieter, don't surround yourself with just people who practice paleo. If you're a Republican, don't just surround yourself with Republican. If you're a hardcore tractor pull enthusiast, don't just surround yourself with other hardcore tractor pull enthusiasts.
Here's a good rule that might help: If you're a ______, don't just surround yourself with ______s. You can fill in the blank yourself with whatever label you want [or better yet, don't use labels at all].
What if you tried this?
Instead of surrounding yourself with people who have the exact same thoughts that you do, surround yourself with people who challenge you, the things you do and the things you think.
Get people around you who are willing to ask you the hard questions. People who are willing to challenge your beliefs, even when they don't necessarily disagree with you. People who aren't just "yes men", simply interested in maintaining the status quo of whatever group they happen to be a part of, but people who are constantly pushing the limits of what they do and what they think.
Of course, I don't expect you to simply agree with me just because I wrote it. What do you think?  [And yes, I fully expect some of you to challenge me :)].