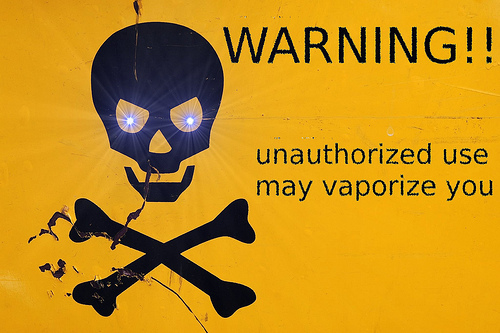 So you want to do hundred pushups? Good luck.
If you want the textbook answer, go to www.HundredPushups.com and follow the progression guide and in six weeks time, you'll be able to to do 100 like *that.* Boom. Presto. Done.
Yea, Maybe if you're the Hulk.
If you're starry eyed and perfect at following guide, you might be able to do it in six weeks. I know people have done it before and I'm not one to say it's impossible, but it definitely wasn't the case for me. Unfortunately, I'm too easily distracted, and entirely way too human to simply transform my pushup capabilities in 6 weeks by following a list of set progressions. The entire experience was much more than just "following a numbers on a spreadsheet."
Over the course of 6 weeks 3 months way too freaking long, I went from being able to do 20 pushups to finally being able to do 100 (and 10) pushups. So you know that I'm not just full of crap, I've documented parts of my journey on other parts of this blog.
What follows is the Unauthorized Guide to Doing One Hundred Pushups. This is based entirely on my experience doing them, is decidedly unconventional, and probably not a scientifically/medically recommended method, but it worked for me. Use at your own risk.
PREFACE: Learn To Do A Proper Pushup
IMPORTANT: Do this first. Otherwise, you'll spend a lot of time trying to do pushups and fail miserably. Then, when fessing up to your failure, you'll have to endure the pain of watching yourself not only fall short of your goal in addition to the added pain of looking ridiculous while doing so (seriously). Here's a quick guide to doing a solid pushup.
The 5 step guide to a Perfect Pushup:
Hands: Shoulder-width apart or slightly wider.
Feet: Together at a comfortable spacing. Keep your body in straight line (no sticking your butt in the air).
Face: Look straight ahead or at the ground 10 feet in front of you (don't look down)
Elbows: Bend your arms until your elbows are at a 90 degree angle (don't forget to keep them in!).
Arms: Fully extend your arms without locking them out completely.
Got it? Now just do that 100x. Simple enough, right? I know this is a pretty quick guide. If you're looking for a more visual guide, check out Steve's guide to a proper pushup. Read that and come back here when you're done and we'll talk about stringing them together back to back, 100 times.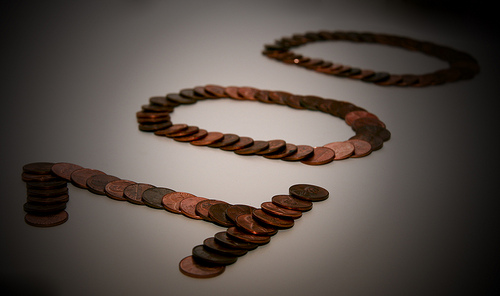 Doing the 100
1. Getting Started
Go to www.HundredPushups.com and follow the guide. Right now you're thinking "Wait, isn't that what you told everyone who wanted to do it the textbook way to go do before we started?" Yes, yes I did, but you gotta start somewhere and this is as good of a starting point as any, especially considering it popularized the challenge. Start off by doing the pushup test and following the first few tutorials and week progressions. If you're new to pushups this is a great primer and will get you started off on the right foot.
2. Be Consistent
Try to be as consistent as possible. If you follow the guide, you should be able to work up from 10 to 50 pushups fairly quickly. There's no secret here other than just to keep on doing the pushups. Unfortunately, as I discovered, after 50, things quickly got much more difficult.
3. Don't Get Bored
Boredom will kill your workout challenge. I mean it will absolutely murder it. I can't tell you how many times I got to the 60-70 pushup range and either stalled or regressed because I got bored of doing 60-70 pushups a day and simply started backsliding. I'm not lying when I say I got stalled multiple times at this step. Over the entire course of this experience, this step alone cost me about 3 months. THREE FREAKIN' MONTHS. During this challenge, boredom will your #1 enemy, so how do you fight it?
3a. Switch Things Up
Switch things up. Doing endless pushups will drive you crazy. Do something, anything else to vary things up, even if it's just another variation of a pushup. Try incline pushups (hands on a chair), decline pushups (feet on a chair), or fingertip pushups (my personal favorite).
3b. Throw The Guide Out
Honestly, the guide gets boring. I'm all for following the steps, but I'm also all for doing what works and after I got to about 5o-60 pushups, I got really bored with the guide. So I threw it out. I started doing different sets of different types of pushups, but I also started doing pushups wherever I felt like it. Instead of following the strict sets, I started to treat everything I saw as a pushup challenge. The wall next to me? Standing pushup challenge. The bench on the sidewalk? Incline pushup challenge. People walking down the street? Moving pushup challenge. Anything I could find to push up against, I would do. Sure, you get a few weird looks, but getting used to people looking at you funny is good for you (just imagine your Dad telling you "it builds character").
4. Speed Matters
After you're able to do 60 pushups in a row, you're basically testing your muscle endurance a lot more than you're testing your muscle strength. Your challenge? Get to 60 pushups in one set before your arms get begin to get tired. If you can do that, you should be able to muscle out the last 40. You'll notice in my video, that my first 50-60 pushups I basically tried to pump out as fast as possible. I sacrificed a little bit of form for and caught a little flack for it (I didn't fully extend my arms as much as I should have), but your job is to knock out the reps before your muscles realize they're tired. Interestingly enough, my form on the last 50 was demonstrably better than my first 50 because the last 50 my muscles were more tired, I took longer to do them and I fully extended my arms in between reps.
5. Don't Be Afraid To Take Breaks
I haven't seen anybody publish a video where they did 100 straight without even a momentary stall in between pushups (if you have, feel free to prove me wrong). If you're struggling with a set, extend your arms all the way, take a few breaths, give yourself a mental reset and keep going. As long as you don't break the pushup position, it still counts (Besides, even if you do break the position, this is your challenge. Do it for yourself and screw what anyone else says.)
6. The Last 20% is Mental
The one really annoying fact about this whole challenge is that I probably could have finished it up about a month ago, but I let the stupid little voices in my head start telling me what I could & couldn't do. After failing spectacularly,  I didn't want to have to fail again. I had this annoying little demon in the back of my mind telling me that I was only going to ever be able to 80 pushups (Oh No! Anything but that!).
After a bunch of weeks of struggling with the mentality that I was only going to ever be able to do 80 pushups, I finally just told that voice to shutup, I blocked out the pain, and I just did it. The exact number where this happens might be different for you, but the mentality won't. At some point, you'll hit a wall and you just need to keep going. I kept waiting for a time when I was finally going to be "ready" to do 100 without struggling and it never came. But, when I finally decided to buck up and do it, I did 110. Go figure.
A Few Takeaways
You're Not Alone
[blackbirdpie url="http://twitter.com/#!/joelrunyon/status/57661313572282368″]
The closer you get, the bigger the urge to give up becomes. Don't.#almostfreakinthere – @JoelRunyon
The 100 pushups challenge will probably suck. And it will be hard. And you'll want to quit. Don't. If you feel like a failure, it's okay. Step back, regroup, laugh at me, and take another shot at it. If you don't finish in 6 weeks, it's not the end of the world. It took me 3 months after my first public failure to finally finish. It's not about how fast you go, it's about getting a little bit better every day and finishing.
Understand The Real Purpose of 100 Pushups
Contrary to what the program would have you believe, the purpose of the 100 pushup challenge is not to actually do 100 pushups. It's really not. Sure, the stated end goal is to finish 100 pushups, but if that's the only goal you have in the challenge, you'll probably suffer a lot of the same things I did (boredom, problems with commitment, etc). The purpose is to push yourself, even through the struggles.
The number 100 is actually a pretty arbitrary number and picked mostly because it's a nice round number that sounds impressive to girls. From my experience, there isn't a real strength differential between being able to do 60 pushups in a row and 100 pushups in a row. If you're looking to this as a training exercise, you'll probably be disappointed. The real purpose of doing the hundred is to take something you thought was impossible and turn it into something that is actually very possible. Make that your focus and you'll be much more successful.
Prepare To Look Stupid
I can't count how many people tweeted my last article with the improvised headline "Joel Turns Purple (…o yea, and he does 100 pushups)." When you start out, you might have to do girl pushups. That's okay. But start. Maybe you'll have terrible form, maybe you'll fail, maybe you'll turn purple. But you don't know until you try. If you want to do anything impossible, you'll have to be ready to look stupid. If you need inspiration, look no further :).
Critics Don't Matter
No matter what you do, someone will say it doesn't count. You're not good enough. The pushups weren't perfect. You suck. It doesn't count. Etc. Tell them to shut up. Critics don't matter.  I've been lucky to have such great support from you guys, but the internet has a tendency to bring out the worst in people and I've had a few negative reactions that could hurt if I dwelled on them. 1, they don't know
Do More Than 100 Pushups
But I thought this was the 100 pushup challenge? Technically. But I have a rule I try to follow with all my challenges: Never do the bare minimum. Always try to do something extra. Why? The bare minimum isn't fun. Sure, you finished the challenge, but just barely. Yes, you want to finish, but you don't want there to be room for error. If you only do 100 pushups, you could convince yourself you counted wrong, you did a few wrong, or you just got lucky. If you do 110, you'll know that you not only finished the challenge, but you dominated it. There won't be any doubt in your mind that you did it and you'll make up for any of those pushups you might have missed, or might have had poor form. Instead of scraping by, you'll be able to say you crushed it. After all, you did 100 pushups. You can do 10 more. Suck it up. Remember, it's all mental.
Breathe
Because otherwise you'll end up turning purple :).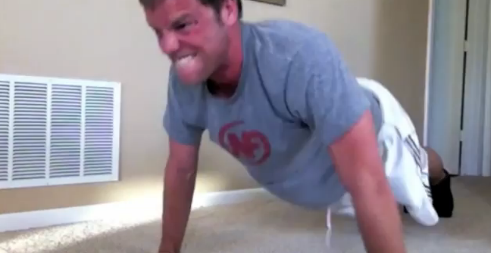 —
Pushups can get addicting. The biggest thing I've gotten out of this whole experience, is a huge realization of how much you can really use pushups in general as a workout. I've been training for my upcoming marathon the last few months while doing this challenge and I haven't been able to spend a lot of time in the gym. But, I've actually managed to maintain and even gain a few pounds of muscle while running 30+ miles a week, just by doing pushups. I'm somewhat addicted to bodyweight exercises and even though I thought I'd get bored of pushups, I'm finding more and more advanced types of pushups that I'm learning to do and finding incredibly challenging. I'm not going to share exactly what those are on here (I'm trying to keep some things to myself), but if we meet up somewhere in person and ask nicely, I might let it slip. 🙂
This is where I wrap it up. If you made it this far through this epic 2,000 piece, you know about everything there is to know. There's only one thing left to do: Drop and give me 100!
Retweet this 🙂