Updated July 11th, 2019
If you're wanting to listen to binaural beats to increase your productivity and get sh*t done, you need good headphones to rock out on.
These are not the cheapest headphones. When it comes to my gear, I'm willing to pay for quality and comfort. I use them everyday, so I want it to work, last and I want to be happy with them. If you're looking for the cheapest headphones, you're in the wrong place.
But if you've already maxes out your 80/20 productivity and have locked in Parkinson's law – music can help you take things to the next level.
So if you're ready for my best recommendations for headphones, set your pomodoro timer, and keep reading.
The Best Headphones For Your Activity Level
The Best Headphones + Earbuds "On The Go"
Sol Relays
I like these a lot. They're my go-to, throw in a backpack and go headphones. They've got a great, full sound and stay in your ears, even if you're running 20 miles.
I use these as my quick, travel headphones or the ones I'll take to the gym and beat up.
The one big annoyance with these is the pads on the earpiece come off all the time, but they'll send you free earpads for life if you sign up for their warranty platform. Nice.
V-Moda Headphones
I started using these after getting them recommended by 3lau. He literally spends his days & nights DJ-ing and knows his sound.
Plus with travel, they're a good combination of sound, portability & durability.
Try them, use them, love 'em.
The Best Noise Cancelling Headphones
I like to joke that once you switch to noise cancelling headphones, you can't go back.
I'm only half joking with this. When you work out of coffee shops, and noisy environments, noise-cancelling makes a huge difference when you're workstation popcorning around town.
If you're not really convinced If you want to upgrade your headphone game, and jump into the noise-cancelling tier, you're gonna pay for it – but it's worth here.
Here are my picks:
Bose QC 20 Earbuds
My buddy Michael handed me these and I was blown away. The best place to demonstrate this is in the middle of a coffee shop. The sound is great on their own, but as soon as you flip the switch on the noise cancelling, the places goes silent. Michael was talking 2 feet in front of me and other than doing some bad lip reading – I had no idea what he was saying.
More so than this, they were COMFORTABLE. Some headphones hurt your ears if they're in too long, but these are uber comfortable. About the only way you get more comfortable than this is when you get earbuds custom molded to your ears.
HIFI Man Headphones
These headphones are the jackpot.
Combine noise cancelling headphones with a full sound. Let them rest easy on your head or fold them up and take them on the go. Did I mention they look sick?
These guys are pricey, but once you'll try them, you'll have a hard time going back to anything else.
The Best Headphones For The Audiophiles (Recommendations from an Audio Engineer – No Price Limit)
Knowing that my area of expertise isn't audio, I asked my brother – a full time audio engineer – what his favorite headphones are. He's the sound engineer for big concerts concerts for Black Eyed Peas, Nelly, and a bunch of other big top40 artists doing huge venues. If something isn't right with their sound, it's on him.
His job is to be picky when it comes to his ears.
And he's got them tuned to an almost superhero level. We'll be having a conversation in a crowded restaurant and he'll perk his ears up:
"Did you hear that?"
"No Justin, I'm not a dog."
"Whoever wired this place, did it wrong. They need to place the woofer in a different spot"
"Okayyyyyy then."
So most of the time, I have no idea what he's talking about.
Then on occasion, he comes in very handy (like right now). I asked him what his headphone picks would be (in case you need recommendations from someone with ears more sensitive than a wolf).
Beyer DT770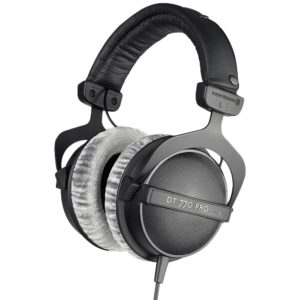 If you're looking for a full, accurate sound and are willing to spend the money, these Beyer's are Justin's pick. All the sound you need plus the comfort that lets you wear these all day without them getting heavy or hurting your ears.
Overrated Headphones That Didn't Make The Cut
Anytime you get into something like headphones, you run into headphones that have great marketing, but don't necessarily warrant the price tag. Here are a few headphones worth avoiding overpaying for.
Beats
Beats headphones are popular, but they boost the bass to huge amounts and while I know Lebron and every other athlete on the planet thinks they're great, they're not optimal for sound output.
If you've got a favorite pair of headsets, let me know in the comments. I'd love to hear what you're using.