Last sunday I got to interview one of the most intense people I know – David Goggins.
I first wrote about David about a year ago. If you don't know, David Goggins is a former 300 pound man turned ultra marathoner who's been deemed by some people as the "toughest athlete on the planet." He's done some ridiculous races including 100 milers, Badwater and a 200 mile race.
David's changing up his usual ultra marathon racing with his attempt at a 24 hour world record pull up attempt. He made a previous attempt on the Today Show and failed…publicly…in front of millions of people…when he had a partial forearm tear.
A lot of people would have given up, but David wasn't done. He set out again yesterday to beat the 24 hour world pull up record (which, by the way, is 4,020). This times he's doing it without the fanfare, in a small Nashville gym – not on national tv. I interviewed him last week as part of the run-up to the event and to him it wasn't about the press, it wasn't about the record, it was about his redemption.
He had to find out if he could do it. He had to find out what he was made of.
David and I talked for about 45 minutes – I have about 6 pages of notes from our call, but he said something that stuck in my brain for days after our call was:
People with a soft mentality disgust me. They live and die the same person they were made.
Wow. I let that sink in…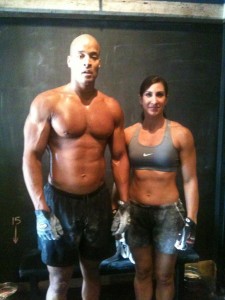 Mental Softness
When you stop becoming a talker…and start becoming a doer, there's a few levels you go through.
The first level is becoming a person that is able to do something. Run a marathon, lose 100 pounds, fight a bear, etc. The next level is becoming a person who habitually does stuff you do not think you can do.
Because once you run a marathon, it's not that hard to run another one. You can maintain that level with relative ease. Sure, it will take some work, but you can do it and eventually a marathon becomes a comfortable realm in which you live. And even though you can run a marathon, the blanket of mental softness still can be allowed to settle around your life as you stay there…
But if you refuse to stay there and keep pushing. And when you do, you start to rid yourself of this mental softness that tends to permeate most people.
The coolest thing about Impossible Abs has not been the physical transformations – even though we've had multiple people lose between 15 and 45 pounds in less than 8 weeks. It's the mental transformations that take place.
I talked to a few people this weekend who went through Impossible Abs. They lost a lot of weight, but the thing that stood out the most to me was the mental clarity and determination they had. They weren't mentally soft anymore.
The program is tough, but it also showed them what they were capable of doing. I had a few people tell me that while they're still not where they want to be, but instead of hoping that one day they might be able to do it, they were determined that it was going to happen. They weren't just optimistic. They were definite. It was already done in their mind – their body just needed some time to catch up. Sure, they were in way better shape, but they were way more mentally tough than they were just 8 weeks ago. The mental softness was gone.
The whole purpose of cold shower therapy is to eliminate mental softness. It's an arbitrary task – voluntarily jumping into freezing cold water – but it also teaches you that your body is as strong as your mind will let it be and you can endure (and even learn to enjoy) things you used to hate.
Going Beyond
The only way to find out what you're really made of is to go beyond.
Go beyond what you're used to.
Go beyond what you find comfortable.
Go beyond what you think is possible.
Because when you go beyond, everything changes. You can't stay the same. You have to toughen up, fight like hell and dig deep. You find out who you really are.
Are you the person that calls it in when life gets tough or are you the person that lets out a battle cry and stare the challenge head on.
You have to toughen up, fight like hell and get after it to reallly find out what you're made of. You have to go beyond. And when you do, you become a much different person than the one you were made.
The Challenge
You have no idea who you really are. You have no idea what you are capable of doing.
Why not find out?
—
p.s. David stopped this morning around 1am with 3,202 pull ups after ripping open a gash in his hand (picture here – not for the squeamish). He didn't get the record this time (0 for 2 now), but I can bet you he's not done finding out what he's made of yet.